Vieux delivers accurate and reliable rainfall data, representing rainfall that occurs between rain gauges. This benefits municipal, private, and regional applications including the following: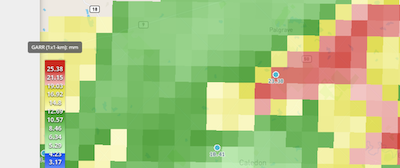 Rain rates on paved or unpaved surfaces (runways, burn areas)
Sewer capacity studies and I&I assessment
Stakeholder engagement
Flood event analysis
Regulatory reporting
Urban planning
Gauge-adjusted Radar Rainfall (GARR) consists of gauge and radar input processed for bias correction, quality control, and filtered to user-specific grids, catchments, or basins in model-ready format. This product supports efficient use of GARR in hydraulic and hydrologic modeling by delivering a hydrologic input product of known/documented accuracy.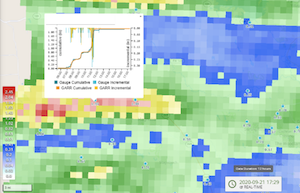 Real-time implementations provide support for stormwater sampling schedules, serves as high resolution model input, and informs flood early warning and emergency response. Rain rates applied to surfaces can quantify and predict surface hazards.
Post-event analysis by hydro-meteorologists provides professional correction, verification, and documentation of GARR.