We serve wet weather, stormwater, flood, and water resources applications. Better rainfall and runoff analysis helps our clients analyze, plan and predict the effects of water on their assets. A few project descriptions follow. Demonstrations, details and additional case studies are available by request.
Wet Weather
More accurate rainfall benefits collection systems planning and operations.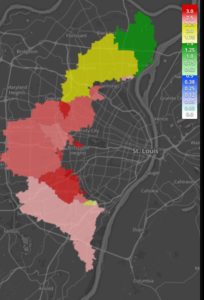 Gauge Adjusted Radar Rainfall (GARR) is useful for characterizing rainfall within the context of sanitary sewer collection system planning, design, rehabilitation and operations. GARR is distinguished by its accuracy and representativeness at high resolution, both spatially and temporally over broad areas. This spatially variable radar rainfall data is needed for characterizing sewer system responses to wet weather.
GARR used for hydraulic modeling or operations should be created using a systematic and documented protocol. Because its use is for engineering and management applications, its preparation should be controlled statistically so that the resulting rainfall data accuracy is known. GARR relies on multiple rain gauges and potentially more than one radar or radar product. Documentation of data sources , periods when rain gauges were either excluded or included, and radar(s) and derivative products utilized in GARR production are steps in our processing protocol.
GARR is a more accurate and representative rainfall distribution and it is less sensitive to individual rain gauge malfunction than distributed gauge-only rainfall measurements.
GARR contributions to wet weather management for wet weather management include:
Regulatory ready reports (daily wet/dry catchment assessment)
Quality-controlled and documented inputs for capacity analysis
Level of service assessment
Public Engagement
See how we provide public engagement for Metropolitan Sewer District of Greater Cincinnati OH. We characterize recent rainfall by rain gauge network, categorize and analyze recurrence interval, and display radar rainfall for storms in real-time: msdgc.vieuxinc.com
Flash Flood
A common operating picture tool for flood management keeps everyone on the same page.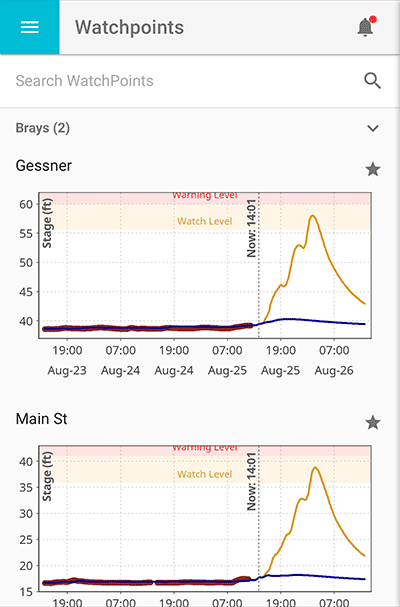 The City of Austin is challenged with flash flooding, experiencing deadly Halloween floods in Onion Creek in 2013 and again in 2015. FloodVieux is implemented in their Common Operating Picture (COP), which coordinates and delivers critical flood information, as seen in Stormwater Magazine May 2017.
The COP leverages Amazon Web Services to deliver timely, reliable visualization and management of multiple data feeds. In addition to supporting operational flood management, the COP has replay capabilities for training and review, and generates immediate after action reports with damage estimates.
Water Resources Management
Decision support tools for water resource management bring information to the people that need it.
A reservoir inflow tool developed by Vieux, Inc. supports hydroelectric dam operation. The developed system collects, stores, and analyzes both current and forecast rainfall, measured streamflow and reservoir pool elevation which is useful in reservoir operations and flood monitoring.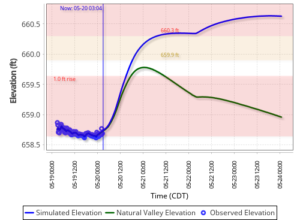 Operating a hydroelectric dam today is more difficult than ever considering requirements for power generation, respecting downstream environmental releases, as well as, lake levels affecting property owners. These operating requirements increase the need for accurate inflow forecast information, now more than ever. Ameren Missouri (Ameren) operates Bagnell dam and associated power generation located in Central Missouri. Constructed in 1929, Bagnell Dam creates an impoundment called the Lake of the Ozarks (LOZ). The lake's serpentine shape has given rise to the nickname of "The Magic Dragon." The LOZ main channel is 94 miles in length from end to end. Upstream releases from the US Army Corps, Harry S. Truman reservoir contributes flow along with runoff from an uncontrolled drainage area of 2,410 sq. mi. How much the reservoir level will change in hours, days, or weeks, is important for managing power generation, especially when lake level rise or downstream discharge impose limits. The problem of knowing reservoir inflow depends on runoff and releases from upstream reservoirs and Bagnell Dam itself. The sophisticated approach taken adds capabilities, handling the complex interaction of watershed runoff, upstream releases, and planned releases from the forecast reservoir. As operators gain confidence with forecast flows day in and day out, their system has also gained accuracy through gauge adjusted radar rainfall, and hydrologic model review and adjustment. What-if scenario testing allows dam operators to try different gate operations to accomplish power generation demands, all the while, maintaining releases that correspond to "natural valley" discharge requirements of the operating license.