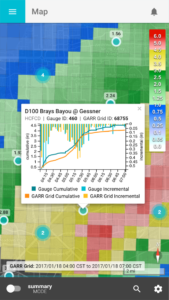 RainVieux delivers accurate and reliable rainfall data, representing rainfall that occurs between rain gauges. This benefits municipal, private, and regional applications including the following:
Sewer capacity studies
I&I assessment
Regulatory reporting
Flood event analysis
Urban planning
Public engagement
Gauge-adjusted Radar Rainfall (GARR) consists of gauge and radar input processed for bias correction, quality control, and filtered to user-specific grids, catchments or basins in model-ready format. Our team of hydro-meteorologists provide professional review, correction, and verification of GARR for post-event applications. This product supports efficient use of GARR in hydraulic and hydrologic modeling by delivering a hydrologic input product of known/documented accuracy.
Real-time implementations provide support for stormwater sampling schedules, serves as high resolution model input, and informs flood early warning and emergency response.
An interactive webpage is at the heart of RainVieux that allows the user to display, query, and download rainfall data. The data is generated in near real-time and additional QA/QC is applied to end-of-day and end-of-month archival quality data. Model-ready formats and quality documentation make our GARR an engineered product. Rainfall intensities as well as accumulations are carefully considered.
Depth Duration Frequency Analysis (DDF) in RainVieux supports analysis and display of rainfall depth frequency. Frequency is determined based on the depth and duration of rainfall events. The recurrence or return interval is useful for evaluating the severity and impacts of rainfall.
V2 transitions RainVieux services to a device independent environment. Mobile access allow current and historic information to be at your fingertips anywhere you are.
One hour of 5-minute incremental rainfall over South Florida during Hurricane Irma.